Swimming and sailing safely in Zeeland
Land-on-Sea, that's your Zeeland. Water surrounds our islands, offering you 600 kms of coastal delight. Shore thing! But water can be wild and unpredictable too and people need to be fully aware of its dangers. Here are some tips we got for you from the Safety Zeeland agency.
Swimming in the sea
Watch out for the sea's various currents, waves and the effects of winds and squalls. Very different to a bobbing around in a calm swimming pool!
Various flags in different colours and designs along the shore indicate if and where it is safe to swim in the sea. Note: these beach flags ('strandvlaggen') are only displayed at places where rescue teams are on duty. Familiarise yourself with the flags in the diagrams below, and their extended versions on the site of the national rescue agency. If you see no flag at the coast, be wise and extra careful.
Do like everyone does: we look out for each other. If you see someone who may in trouble, intervene to the max of your own safety and get bystanders and others near you to help – and alert the lifeguard and rescue team station.
To ensure that the quality of the water and levels of physical safety are good enough for swimming, it is recommended you swim only in those locations that have been designated as safe for swimming.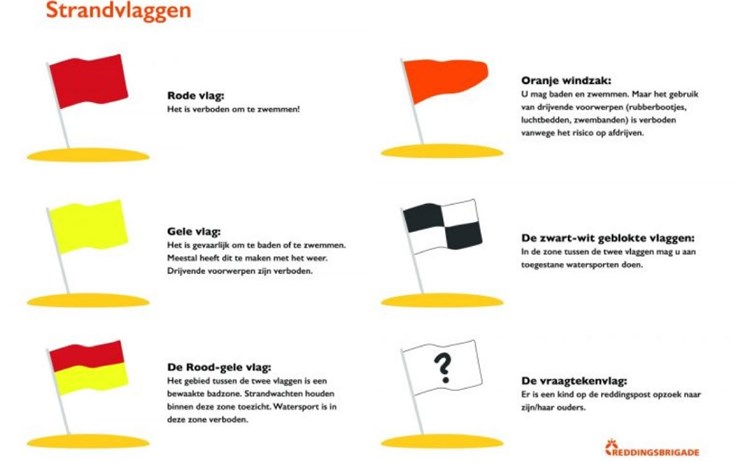 Pacific oysters and clinging jellyfish
In a number of bathing areas in Zeeland, it is advisable to take extra caution with respect to Pacific oysters and clinging jellyfish. The Pacific oyster shell has razor sharp edges which can cause deep cuts. Unfortunately, these oysters can be found in many places in waters around Zeeland. In addition to the Pacific oyster, in a small number of bathing areas around Zeeland, clinging jellyfish can also be found. Clinging jellyfish are no bigger than two centimetres in size. Nevertheless, if you happen to get stung by their tentacles, you may experience itching, a burning sensation and a rash. This folder will tell you more about where you might encounter Pacific oysters and clinging jellyfish and what you can do to protect yourself.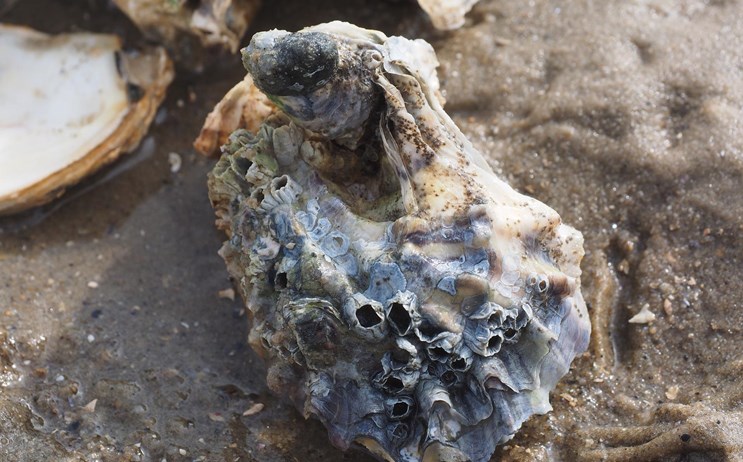 Get ready for being on the water
It's as wise as an old sea shanty, the expression "Well begun is (more than) half done". Before you go out on the water, be sure you're ready to take it all in your stride. For starters:
Listen to the weather forecast on the many local and regional radio stations, use the various language versions of popular weather apps ('weerapps') or check out the texts of the Dutch Met Office (knmi.nl)

weather forecast. Extra useful in English is the detailed twice-daily coastal shipping forecast (including adjacent lakes and estuaries)
Wise up about the waters you'll follow and cross, their junctions and possible choke-points, and guidelines for passing other boats. Special tip: There's loads of lists and maps

Always wear clear identifiable apparel, such as hi-viz

Make sure your boat is in good working condition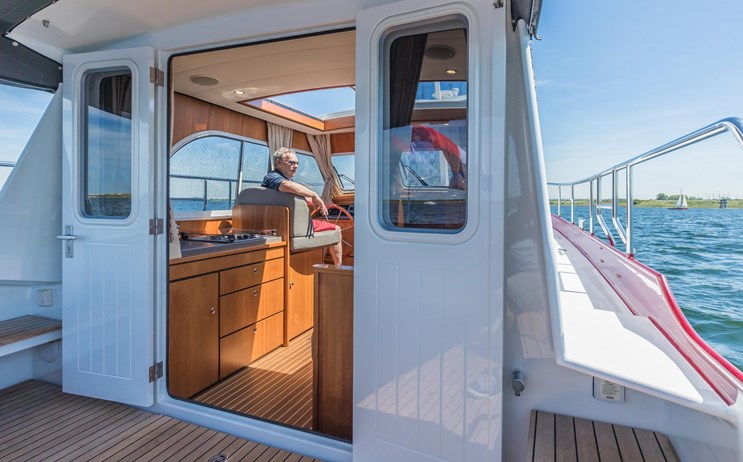 Your safety, our waters
Key issues: pleasure when aboard, and the safety of others and yourself. To-do list:
Actively respect navigation rules, wear a lifejacket

Keep an eye on everything around you (360ᶹ) and communicate with other sailors

Pass other boats, ferry boats, bridges and sluices according to the rules

Cross over other routes only when you know it is safe
What to do when something goes wrong?
Sound the alarm on Distress Channel 70 on your marine radio ('marifoon'). Or otherwise alert the coastguards – within the Netherlands, that's 'Den Helder Rescue' on marine radio channel 16. If you've called for assistance, all other nearby boats are bound to look out to help too.
If you've only got a mobile phone – just 'pray' you're within range! --call the Coastguard on 0900-0111 or the National Alarm Centre on 112. Note you'll not get any assistance from other 'listening in' boats – it's always better to use the marine radio in an emergency.
The Coastguard will always need to know your position and prevailing conditions. Give your GPS position and describe where you (think you) are.
If you've only got a motor breakdown, the lifeboats of the KNRM (Royal Netherlands Sea Rescue Institution) will not, repeat not, come out to help you. You'll need to use one of the available marine breakdown services. Research them on this info from the Coastguard.
Safety at sea is a much-covered topic, in Dutch only, on the sites of the KNRM (Koninklijke Nederlandse Redding Maatschappij) or of the national rescue services. Things are changing fast, especially for sailors, and apps such as 'KNRM helpt' may be available in other languages. Key issues from such apps are also available in PDF.
The KNRM (Lifeboat) Station Zeeland
With so much activity on Zeeland's waters, the national sea rescue service operates several KNRM lifeboat stations on the province's coast. A brochure lists their services and your options in using them when out swimming or sailing.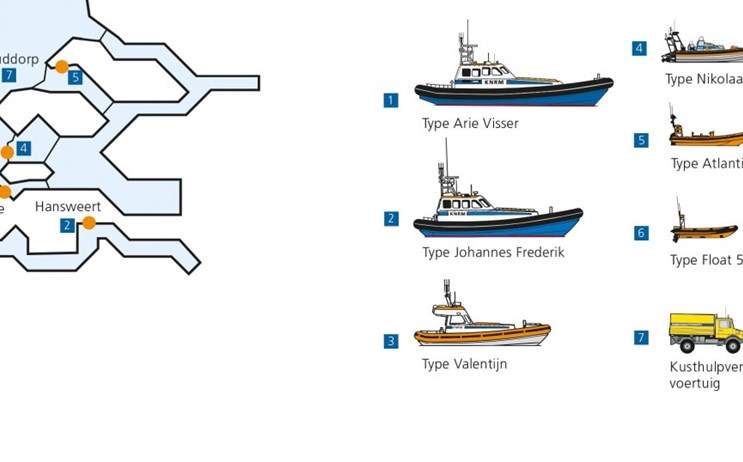 "Well begun is (more than) half done"
More information