Dutch Headwind Cycling Championships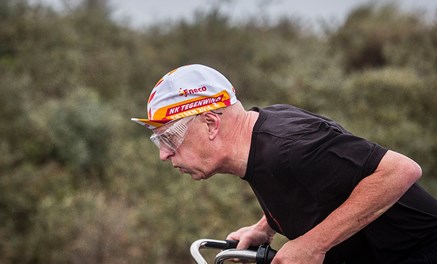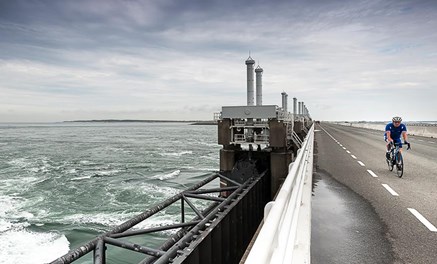 5 things you need to know about the Dutch Headwind Cycling Championships
It's all about waiting for the right wind. When storm force conditions are expected, you can be sure it's time for the 8th edition of the Eneco NK Tegenwindfietsen, or the 'Dutch Headwind Cycling Championships'. What cycling geek would want to miss out on this event?! Read here the 5 things you need to know about the Dutch Headwind Cycling Championships. Are you up for it?
1. 'We kriehen sturm'
The contest is only announced when wind force 7 conditions (or more) are expected. The event will only go ahead if these conditions are forecast around three days in advance. The weather forecast is the all-decisive factor. Once the organisation has cried 'We kriehen sturm' ('A storm is brewing'), preparations can get underway for the Dutch Headwind Cycling Championships, sponsored by Eneco. You can of course, train all year round, though you never quite know when the right kind of storm is brewing!
2. No gears and only a coaster brake
Only traditional sit-up-and-beg bicycles rented out for the event by the organisation can be used. Racing bikes and electric bikes are banned. This 'Dutch Mountain' race has around 300 contestants, all on old-fashioned bikes, without gears and with a coaster brake only.
3. No easing-up this year
After two years with no competition, cyclists faced an uphill battle last year. The organisation therefore decided to make the contest a little easier than in previous years. Whereas last year, cyclists were able to take part in a 'light' version of the championships, this year there will be no favours granted and contestants will have to throw all caution to the wind!
4. Recycling, recycling and more recycling
Nowadays the focus is on a more sustainable future and what we can all do towards it. The 8th edition of the Dutch Headwind Cycling Championships therefore will be called the 'Re-cycle Edition', based on the dual themes of recycling and sustainability. The organisation's plan for this year's contest is to recycle as much as possible.
For example, the banners, the start and finish arches, signage and drinks containers. But the organisation will also be asking participants from previous years to come with their old Dutch Headwind Cycling Championships caps and shirts from one of the past 7 years. And what happens if you get a place on the podium? Then there's every chance you'll receive a recycled medal, trophy or bouquet of flowers.
5. A watchful eye
The event will only take place if the wind is strong enough and it's coming from the right direction. If there's a westerly wind instead of a south-westerly or north-easterly, there will be a crosswind. That makes things slightly complicated! And fingers crossed that the wind doesn't change direction during the ride!
Discover Zeeland
More about events in Zeeland