Markets of Zeeland
Zeeland has so many markets for you to visit! Stroll around amid the stalls. The scents and the colours will come up at you. Fresh veg and fruit. Straight off the land. Fish straight from the sea. Tasty sweets. All fresh and mainly handmade. The market is the place where visitors and residents meet up. Come along, take a look, take a taste. And take a place on a terrace. Enjoy!
Weekly markets in Zeeland
Every Zeeuwse town has one or more weekly markets with splendid fresh produce – veg and fruit, fresh fish, flowers and cheese. Some towns also have a market for hardware and clothing. In Middelburg, Goes, Hulst and Terneuzen the market is twice a week.

Other villages and towns have a once-weekly market, each with their own character. In Vlissingen, the market is held on Fridays in in Spuistraat. But you can also go to the one in tasteful Sluis, at the foot of the Belfort belfry. On Thursdays, go to Zierikzee market, in the heart of the harbour side Havenplein. And when you've got all your shopping, find a perch on a sunny terrace for a decent cup of coffee. With a Zeeuwse cinnamon roll (bolus cake), of course. Need something stronger? Take an invigorating Zeeuwse beer.
Need an overview? Here are the weekly markets in Zeeland:
Monday - Axel, Hulst

Tuesday - Goes, Breskens (09:00 to 12:00), Kruiningen (13:00 to 17:00), Aardenburg (08:00-12:00), Kapelle (08:00-12:00), Tholen (08:00-12:00)

Wednesday - Oostburg, Renesse (09:00 -13:00), Terneuzen, Nieuw and St. Joostland (09:00 -12:00)

Thursday - Zierikzee, Middelburg, Oud-Vossemeer (07:30 -12:00), Hulst

Friday - Sluis, Vlissingen, Arnemuiden (12:00 - 17:00), Yerseke (08:30 - 12:00), Terneuzen (Zuidpolder shopping centre)

Saturday - Goes, Middelburg, IJzendijke (08:00 - 12:00), Veere, Wemeldinge (08:00 -12:30)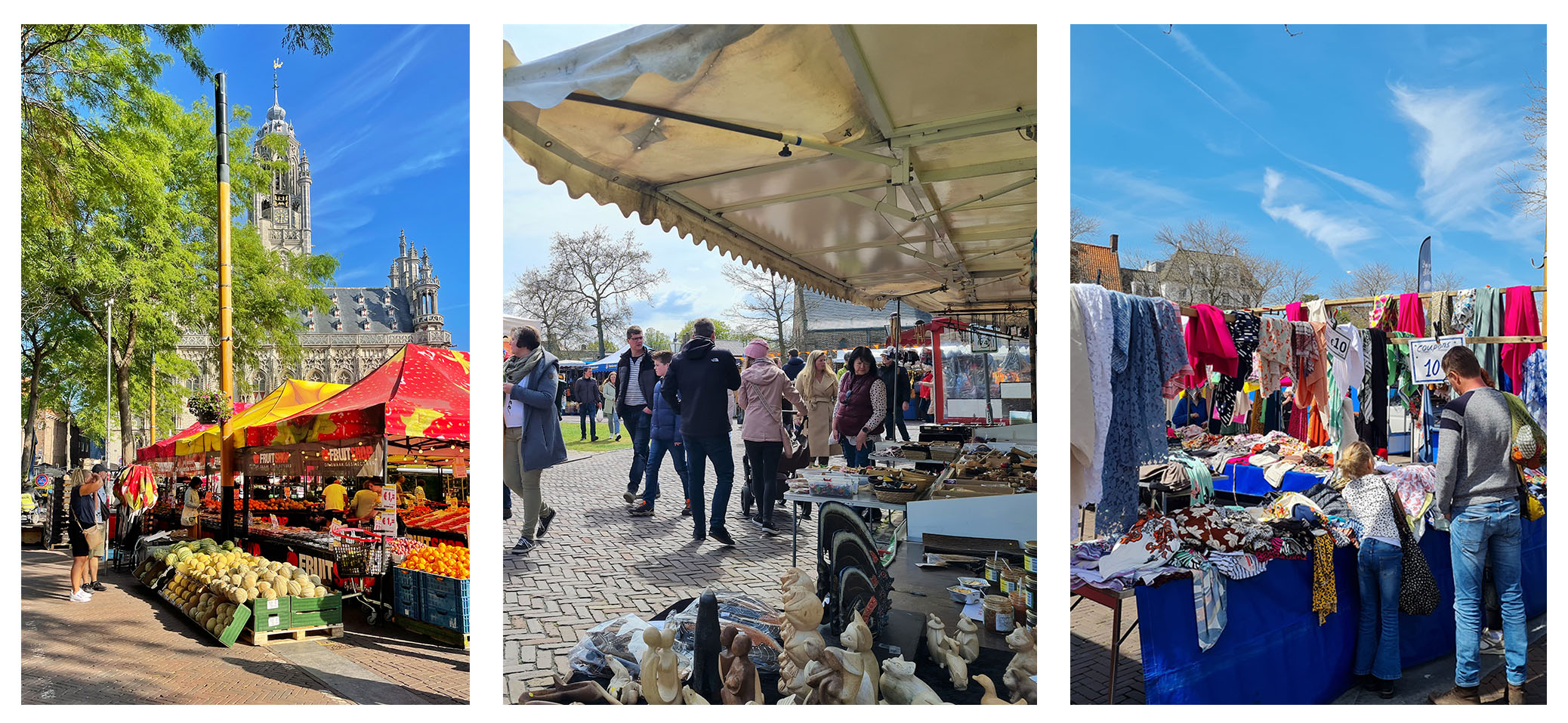 Summer markets
Some villages – Domburg is one – only have a weekly market in summertime. There you'll find all you need – and more: from clothing to local produce. The summer markets in Zeeland are really fun. Some are open in the evening, even until midnight, with an emphasis on produce from the local area. On Walcheren, there are loads of seasonal markets in various villages. The summer market in Brouwershaven is cool too. You can stroll around the harbour – just the job for holidaymakers!
Every summer, Kamperland morphs into one massive market. Full of stalls with curiosities, local produce and other nice gadgets and widgets. In a Zeeuwse summer, you might get (nicely) stressed with so many cool markets to visit! There are so many great things to see. Like the night market in Renesse, the summer market in Domburg, the mid-summer's night market in Vlissingen.
Tourist markets
As well as these regular weekly markets, Zeeland hosts a number of special ones. In Zierikzee there's the annual horse market (Paardenmarkt). In Veere, every summer Tuesday there's the historical market. At Whitsun time in Vlissingen, they hold a super market on the boulevard. A market with a sea view! Repeat sessions are held later in the summer. The summer market in Tholen has something for young and old. And in Kapelle at the end of August the annual 'Kapelse Dag' attracts hundreds of visitors. Also worth a mention is Koewacht, on border of the Netherlands with Flanders, where the annual May Fair (Meikermismarkt) is an experience not to be missed.
Annual events such as the harbour days (Havendagen) in Zierikzee and the mussel days (Bruse Mosseldagen) in Bruinisse are often expanded with extra cool stalls and various activities. So keep your eyes on our diary on this page so as not to miss the best activities and markets.
Dates for summer markets in Zeeland
The precise dates for summer and special markets in Zeeland vary from year to year. The following month-to-month listing will give you an idea of what to expect in a Zeeuwse summer. For more exact dates, please consult the diary at the foot of this page.
May – May Fair (Meikermismarkt) Koewacht, Whitsun (Pinkstermarkt) Vlissingen
June – Horse market (Paardenmarkt) Zierikzee, various summer markets
July – Annual market Tholen, Night market Renesse, Brocante market Zierikzee, various summer markets
August – Mid-summer's night market (Midzomernachtmarkt) Vlissingen, annual market Kapelle, Night market Renesse, Brocante market Zierikzee, various summer markets