My visit to A Seal
Written by: Miranda de Moor

Hi. I'm Miranda de Moor and I live together with my husband Michael and our daughter Lizzy on Goeree-Overflakkee. I'd like to spend a few minutes telling you about the lovely places on the lovely island of Goeree-Overflakkee. Most people say that it's part of Zeeland, but in fact it belongs to the province of Zuid-Holland.
One Friday afternoon, I had an appointment with Karola van der Velde, the manager of the seal sanctuary called A Seal Zeehondenopvang in Stellendam. I had asked her to tell me more about A Seal. We'd agreed that Karola would bring someone who loved seals and could tell us all about them. And there she was, happy to tell us everything about 'her' seals: Anka Beyer.
We did try her patience though. Lizzy and I drove to A Seal, but things held us up and we arrived later than planned. One of the bridges threw a spanner in the works, staying open. (That took me back to my schooldays when we used to use the bridge as an excuse for being late then!). But this time it was 100% true, and it gave us a chance to get to know the fishing village of Stellendam a bit more – we'd come just when the fishing fleet was returning to port after a week out at sea and the bridge was open for them. It all looks very nice though, if you come, with all the boats lying in the harbour. Might be an idea to get some fish snacks from the stalls on the quay.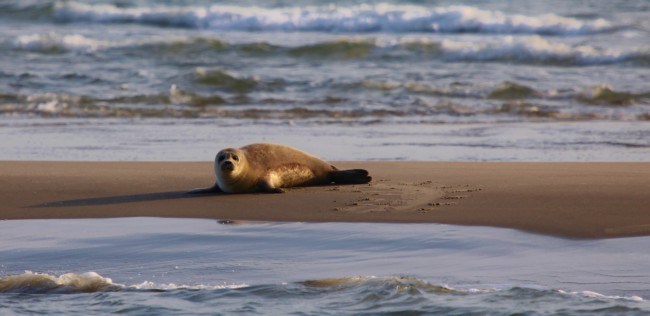 When we finally made it to A Seal, Karola was waiting for us in reception and the shop, with all sorts of seal things. Anka was ready to take us around, and that was certainly worth it. It's not a very big place, but it is really lovely to see how well the seals are looked after, in their nice clean A Seal.
We watched a film about what happens at A Seal and the five-step plan to get the seals well enough again in about three months to go back to sea.
More than 1,000 grey seals have been to A Seal since 1990. Anka told us about the two types of seals – the grey and the normal one – and the differences between them. It's a good thing that she did because we couldn't see them at first.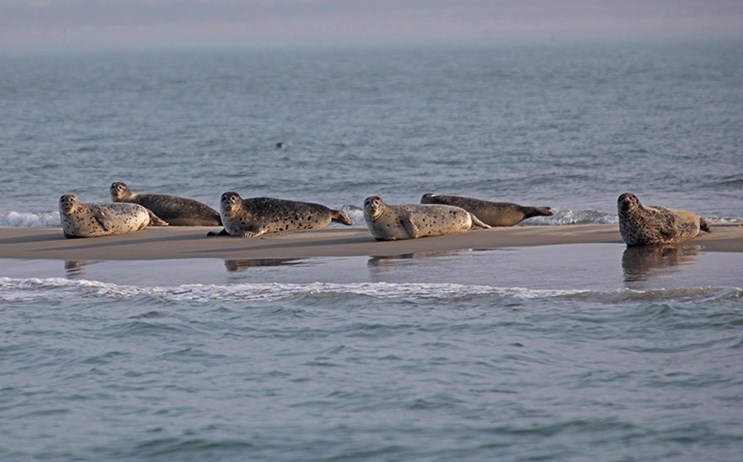 When you're taken around like this, they you lots more stuff about these nice happy creatures. Not just about how they're looked after in A Seal but also what their life is like in the wild. On our visit, we were shown behind the glass screens how the seals which were in quarantine could learn to eat for themselves and that was really lovely to see.
When the baby seals are born, they often sit with their mothers on a sandbank. Sometimes, unexpected circumstances – like when a human being comes too close, or a dog gets too interested – make the mothers flee into the water, and the babies lose their mum. Then when the babies are found, like by someone walking on the beach, they are taken to A Seal to recover until they are strong enough to look after themselves. Not just baby seals are brought in, but sick and weak ones too, to recover. Before they are taken back to the sea, at either Ouddorp or Renesse, they have to weigh at least 35 kilos.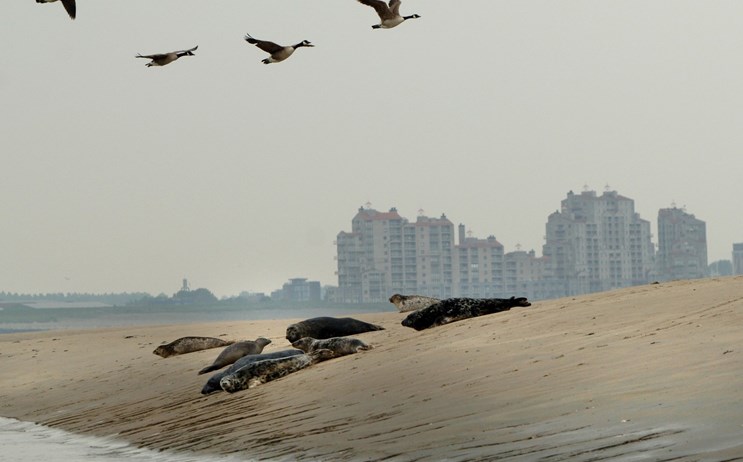 On the site
www.aseal.nl
you can see where and when the seals are let out back to sea. You can see the opening times too and find out about deals, like kids' parties. And about how to adopt a seal, at least financially!
A visit to A Seal is really educational for children, and for adults too. To sum it all up, a visit to A Seal is worth making the trip for.