Six tips for do-able bike rides in Zeeland
Written by: Lianne van Rijn, an imported Zeeuw, biking-mad and a fervent fan of Zeeland
Off we go – you've got me talking about biking in Zeeland before we've started! My choice is my racing bike or my e-bike, when heading out to explore a part of the province. Peace and quiet and space. Even before the days of COVID-19, these were core criteria for my trips. If you want ideas for safe and undisturbed excursions, keeping a good distance from other bikers, here's half a dozen goodies.
Plan A for ahead
On a good day, I tend to take the wind into account. 'Cos she's nearly always with us. Mind you, I also delight in skipping to Plan C (throw caution to the wind), and not planning ahead. No schedule. Up sticks early, and away! Or I might just turn off down an unfamiliar lane and see where it brings me. Sometimes to places and features I'd never noticed before, not even as the relatively new local I've become.
1. De Zak van Zuid-Beveland (distances variable, à la carte)
For the Zak van Zuid-Beveland, I spurn making a detailed plan. It's well-defined, incredibly well-endowed and just, well, made for meandering. As you'll find with the local roads, as they bring you through yummy spots like Nisse, Ellewoutsdijk and Hoedekenskerke. Or past those rows of sturdy trees on the legendary flowery dikes. Best in mid-spring, when the fruit orchards are in flower – swathes of red and white blossom as far as the eye can see, and fields of riotous wild plants alongside your path. Not to mention the hard-working fruit growers – reward yourself at a producer's roadside fresh stall, or pop into a farm shop. See your smile evolve, your joy flowing with the juice. Chance is a fine thing, especially on wheels – but make the best of the maps of the bike hub network. It maxes your control on just many klicks you'll pedal.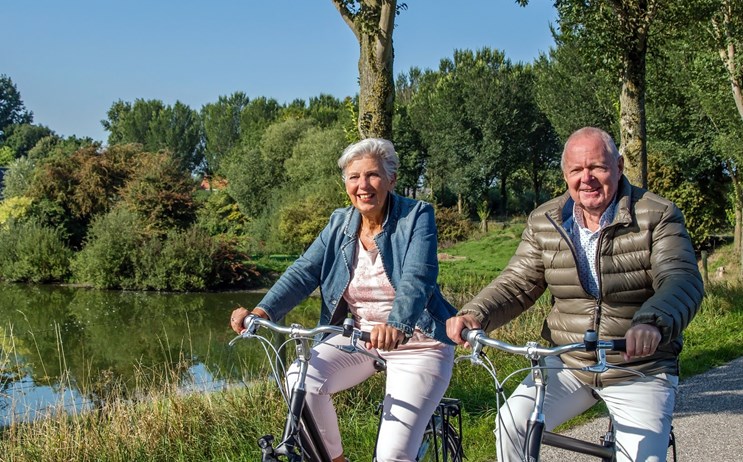 2. Breskens to Terneuzen v.v. (61 km)
The coastal bike trail from Breskens to Terneuzen is truly one of my favourites. Much of it flips between the awesome and awe-inspiring, along the Westerschelde estuary –often untamed, yet dominated by the hulking freighters so close by. Come high tide, the trail gets flooded: at ebb time, you'll discern the sandbanks. If you remember to bring your binoculars, enjoy seeing the seals and birds. Of course, feel free to take the inland bike trail through the polder. Or even head the other way. The bike hub network map of 'Zeeland Zuid' is your guide.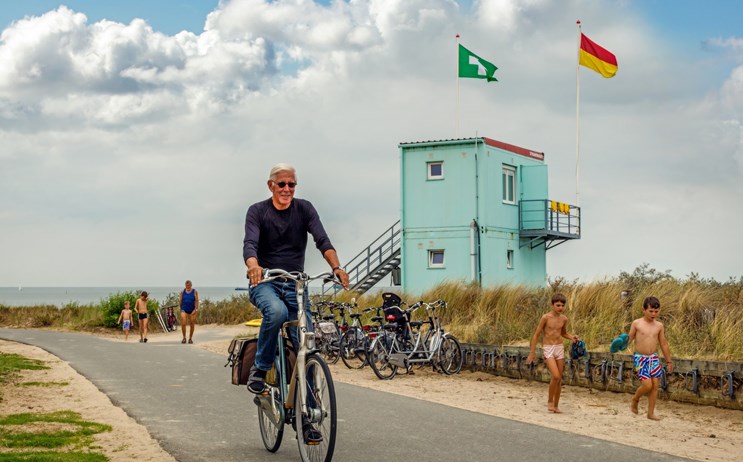 3. Take time in Tholen (38 - 78 km)
Bikes are made for this: the nature, the ambience of Tholen en Sint Philipsland. It's here as a cyclist that you'll find areas of water, quiet and nature. On the route 'Een moment voor Tholen', you'll be wafted through delightful polders and an islandful of villages and wee towns. In Tholen town itself, the old defences and walls are much in evidence. Heading out to Sint-Philipsland, the nature area of Rammegors flaunts its flora and fauna – you'll wallow in watching the warblers from the bird hide.
The route – easily split in half – includes several ancient farmsteads which are still intact, their history explained helpfully on nearby panels.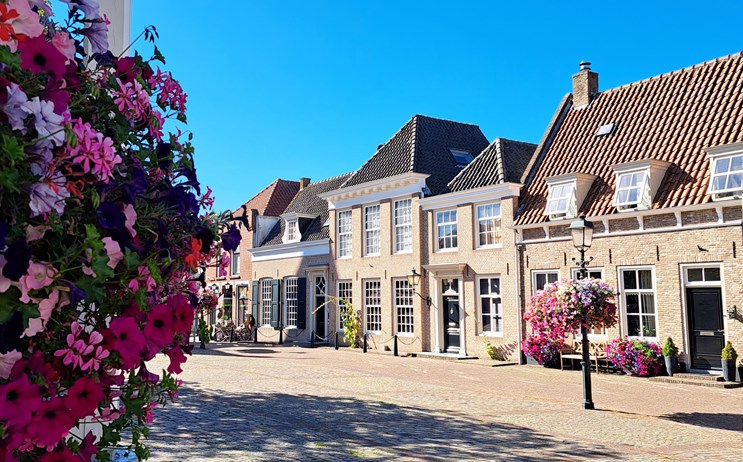 4. Brief tour of Noord-Beveland (36 km)
It's often rightly called the 'Island with no end', Noord-Beveland – you'll feel that on your bike! It's tucked in between the waters of the Oosterschelde estuary and the Veerse Meer lake, with loads of water-side bike trails. Whether you set out in Colijnsplaat, Kamperland, Kortgene, Kats or Wissenkerke. Behind those dikes, the enticing inlay wetlands with accompanying birds. All in all, a joy to pedal along. Watch out for other bikers on the narrow bike paths – give them space to spread out.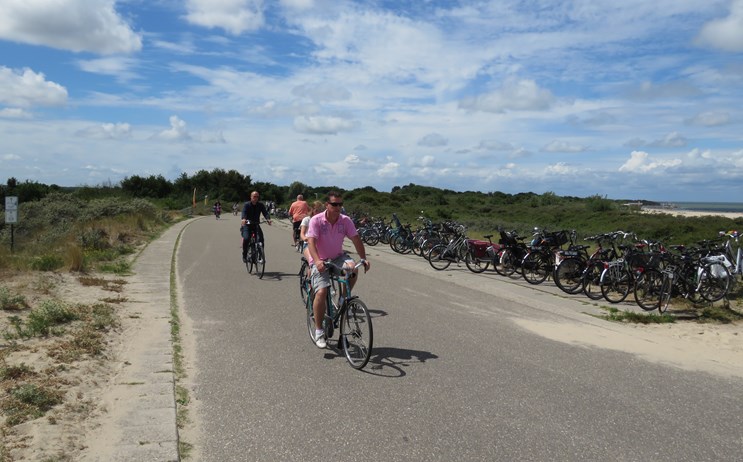 5. 'Up-country' in Schouwen-Duiveland (46 km)
You'll enjoy the rich diversity of the landscape of Schouwen-Duiveland. Myself, I use the free parking space of the Havenpoort in Zierikzee as a starting point for my up-country rides around here. Within 10 minutes, you're in the Schuddebeurs woods. Pull yourself across on the raft from the Schouwsedijk and head past one of our youngest circle villages, Noordgouwe, towards Brouwershaven with its photogenic windmill, village harbour and town hall. Take the coastal dike towards Dreischor, gazing out over the Grevelingen lake before absorbing our role model circle village, the country's pride. Quite some circularity here: the streets encircle the church.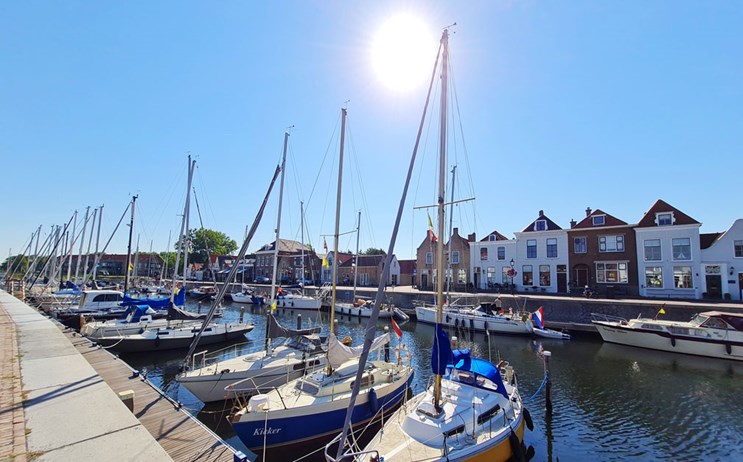 6. Escape to the vliedbergen (37 km)
When I moved to Zeeland one short decade ago I had no idea what a 'vliedberg' was. Now I recognise these 'flight mounds' and salute their role in the local landscape and culture. Partly – as in many a delta in the world – it's to harbour fleeing folk at times of floods, and to give some of the powerful a fighting advantage. Walcheren is full of them. The 'Vliedbergen' route has a good handful, in locales like Grijpskerke, Mariekerke, Biggekerke and Gapinge. Mind you, on sunny summer days, some are busier as fun spots than as life-saving escapes – especially around resorts like Zoutelande and Domburg. On the same route, there's a (specially raised) vliedberg, home to a real make-believe timber motte-and-bailey castle. Dreams come true here, at the Terra Maris museum in Oostkapelle – and then some!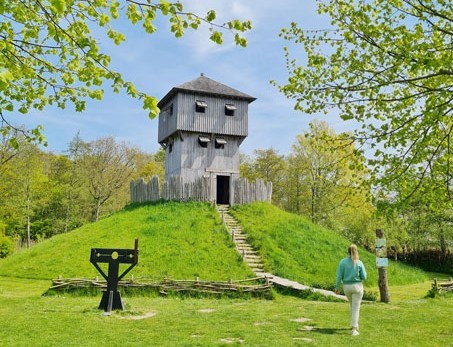 Want to read more blogs?
For example, on discovering street art, events in Zeeland's towns and cities, out and about with Zeeland wildlife, or diving into nature. There's something for everyone in Zeeland. Get inspired and make the most of your visit to Zeeland. Our blogs will explain what Zeeland lovers do with their time here. Find out more on our
blog page
!