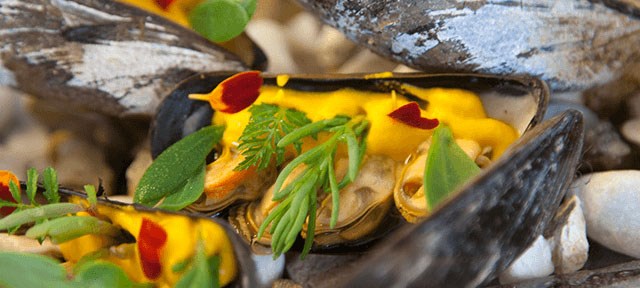 Recipe: Mussels in allium
This tasty and easy recipe for mussels in varied allium vegetables is by head cook Michel van Hofwegen. Of course, you'll use Zeeland mussels. They are world-famous, thanks to their distinctive taste which comes from their cultivation in the waters of the Oosterschelde estuary and the unique method of cleansing. Michel combines the mussels with garlic, chives and lardons (small bacon chunks). Dig in! Serve with fresh fries, some dark bread and a nice fresh mixed salad.
Ingredients
3 kg mussels
300 ml crème fraîche
6 cloves of garlic
Bunch of chives
200 grams lardons (small bacon chunks)
Pepper and salt
250 grams mussel vegetables (small slices of leek, onion and
celeriac)
200 ml white wine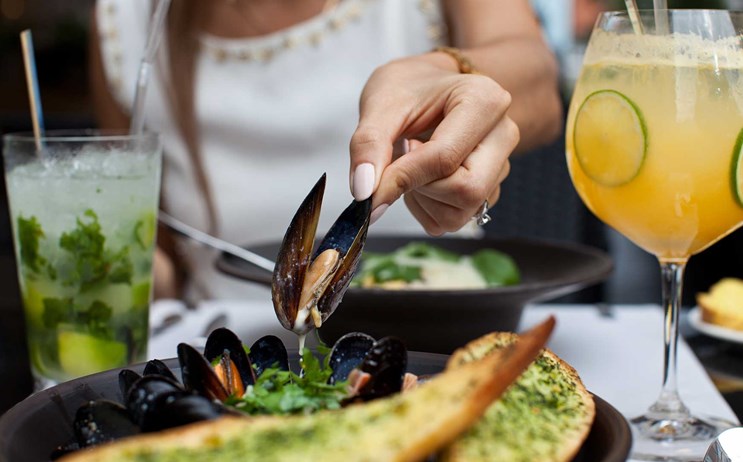 Preparation
Quickly crisp up the bacon chunks in a large cooking pan. Add the pressed garlic, and remove the pan from the heat. Leave to cool. Chop up the chives finely.

Mix the bacon with the crème fraîche and add the chives. Lightly add some salt and pepper, according to taste.

Check that the mussels are completely clean. Wash them under running water. Remove any pocks on the shells with a sharp knife. Look out for any broken shells – remove any such mussels, and thrown them away. Scoop the mussels into the pan, add the vegetables, the white wine and the bacon-crème fraîche mix. Season to taste.

Put the pan of mussels on a high flame, and bring them to a rolling boil. Remove and give them a good stir with a sturdy spoon. Return to the heat, and bring them back to the boil. Repeat the good stir, and check if the mussels have opened up, wide. Yes? You're all set. Ready, steady, GO!