Listen ... Do you want to know Zeeland? Here's some tips you'll want to hear
Want to keep calm, collected and socially distanced? And let the terrain take the strain? There's more than enough to enjoy in Zeeland.
Re-visit lost treasures
Zeeland has lost her fair share of villages and hamlets over the years – often to the injustices of weather and water. Several sites can be viewed even now, safely, a still life of what can be treasured. In the polders behind Westkapelle, a special walking route takes you to nine such places. And on Schouwen-Duiveland, you'll find many revealing information panels, windows on a once too watery world. The Plompe Toren is the most spectacular and instructive, but there are plenty more.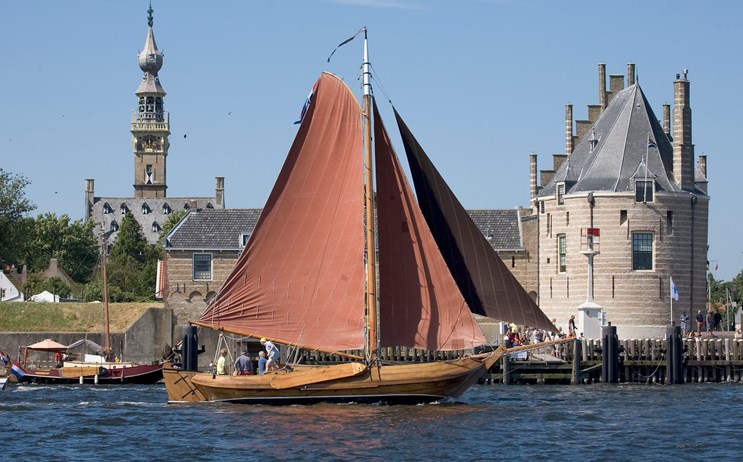 Yesterday has gone
Stretching across much of Zeeland-Flanders, the ruins and reminders of the forts and dikes of the Staats-Spaanse Linies will stir old – and new – ideas in you. Sometimes they nestle near a village, as with Retranchement and you'll perhaps find other visitors. Elsewhere, you'll be on your own, just you and your imagination. Try the Sint-Linius fort, or some of its neighbours. Over on the northern bank of the Westerschelde estuary, Fort Rammekens – the oldest Dutch sea fort – has aged gracefully, amid a thriving nature area. And sometimes on the quiet beach of Kaloot, you'll find fossils while you swim.
Tip: a museum visit can be a walk through history – at your own pace and distance.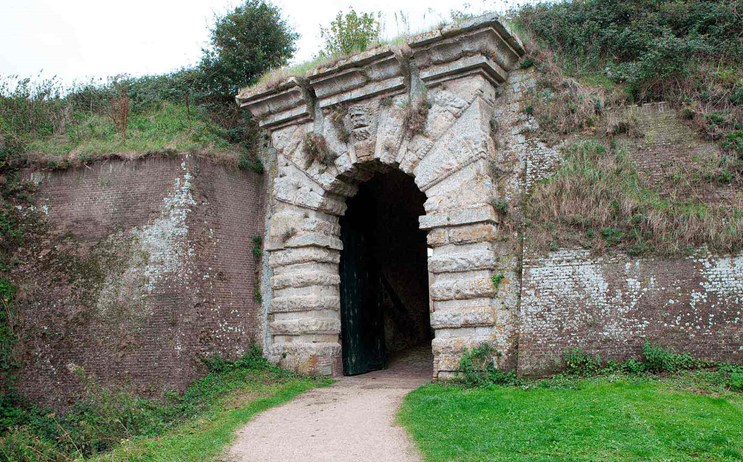 Southern comfort, in the Zak garden
There's an extra 'something' on the southern side of the fertile bundle we call the Zak of Zuid-Beveland. For starters, the clouds are for ever unfolding above the polders and the waters of the Westerschelde. On the ground, even underneath, the fetchingly quiet village of Baarland is home to the 14th century Hellenburg castle ruins and a vaete watering hole for cattle. Nearby are some fine dining outlets, more than worth a detour. On the riverside bike trails, head towards Ellewoutsdijk and its imposing fortress, still intact since 1839. The estuary air you share with flocks of discerning birds, from oyster catchers to plovers. In the lee of the dike, the 1887 Inlaag ('inlet') wetland is popular among the birdlife – less so the humans.
Once you're sold on cycling on the outer dike trails, check out the queen of them all, even further to the south: the waterside ride from Breskens to Terneuzen. Our blogger shares her slow travel tips here and she's never looked back since!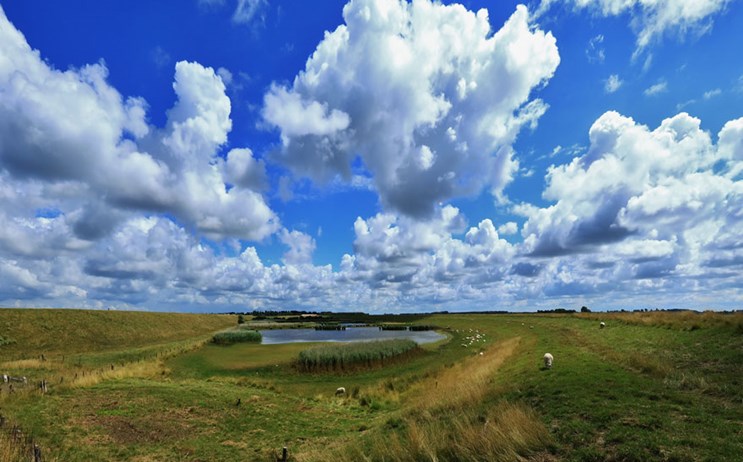 Those up-country moments
However much the coast wins your heart, spare a thought for those spots inland where you can just sit quietly on a village bench (the word 'authentic' works well here) and watch the world of Zeeland gently pass by. More rural than wind-swept, you know the score: the revel is in the detail. Well-preserved farmsteads, watering holes for the livestock, cottages curled up on dikes, the occasional mayoral residence primed with primness, snug courtyards, hushed church squares – it will all captivate you, covering you in calm.
Every settlement will have something for you, but here are some ideas to get you started:
Aagtekerke: can't get them nicer than the charming old houses around the church square – and, summertime, their decorative hortensias (hydrangeas).

Dreischor: one of the nation's top ring villages, and perhaps Zeeland's finest. Did the name come from 'three mudflats'? Do make time to absorb the Goemanszorg museum. It has stories to tell.

Oud-Sabbinge: a small village, but large enough to host a castle and not a few farmsteads.

Kats: artists have made their mark here – witness the gardens and building facades – as have the feline species.

Sint Anna ter Muiden: the superlative in picturesque (guess!). A community of a mere 50 souls, with a stunning tree-lined square and a church to match.

Sint-Maartensdijk: It all happens at the Markt, with its splendid town hall (a listed building).
Tholen: a town for the discoverer in you. Snug urban alleys, listed buildings and relics of the old ramparts. The Het Bolwerk museum explains all you need to know about the Staats-Spaanse Linies, the town's defining feature.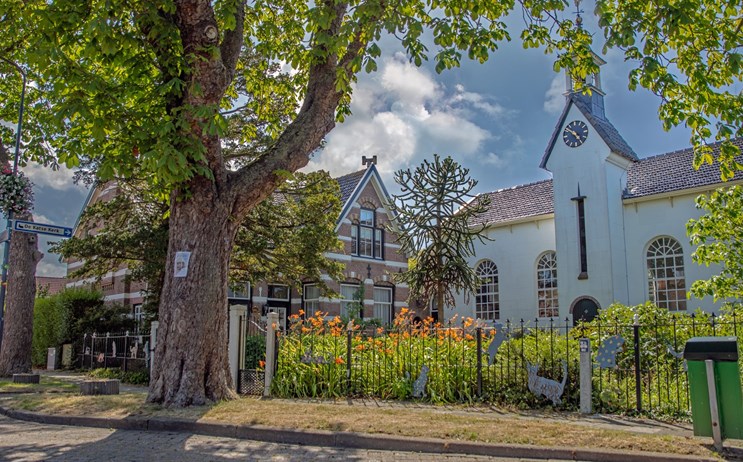 Take a boat trip
Away from any poorly-distanced crowd? One clear option is to book a boat excursion. Capacity is limited – so it's yours – and, whatever the weather, it's fun to do. You can always just watch the clouds – fascinating. At Burghsluis, pop aboard the good ship Onrust and you can choose between a Family Boat Trip, or one with a tint of Nature through the Oosterschelde National Park. Or sail away on the Marstrand from Yerseke – ideal if you combine your trip with their Mussel Trip. Be sure to reserve in time.
Our website will list all the current trips available.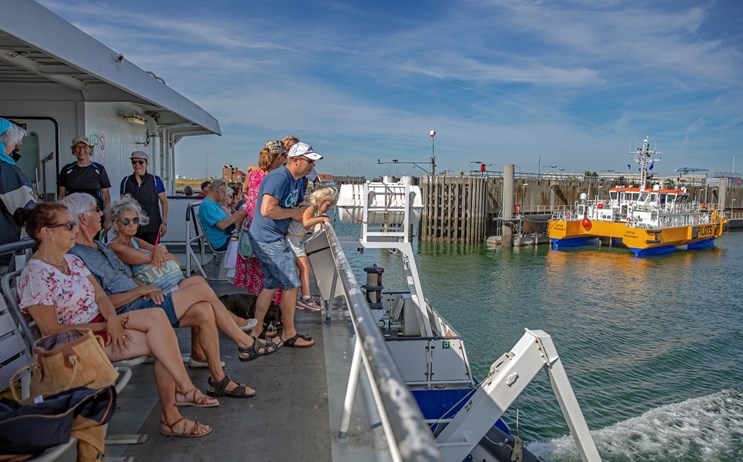 I spy the Fave Five
Specially for fauna spotters, we've compiled the Zeeland Big Five: seals, deer, flamingos, porpoises and sea eagles. See how long it takes you, or your fellow travellers, to see them all. Some tips of where to catch them:
Seals: near Renesse beach, at low tide
Deer: in the Oranjezon natural area
Flamingos: from the dike at Oude Tonge
Porpoises: at the harbour entrance to Zierikzee (and hear them too!)
Sea eagles: around the mud flats of de Heen, and the Plaat van de Vliet. Keep an eye out for high trees and other elevated places. Other birds may give the game away. They can get very agitated if there's a sea eagle around.
More tips about the Big Five in this blog.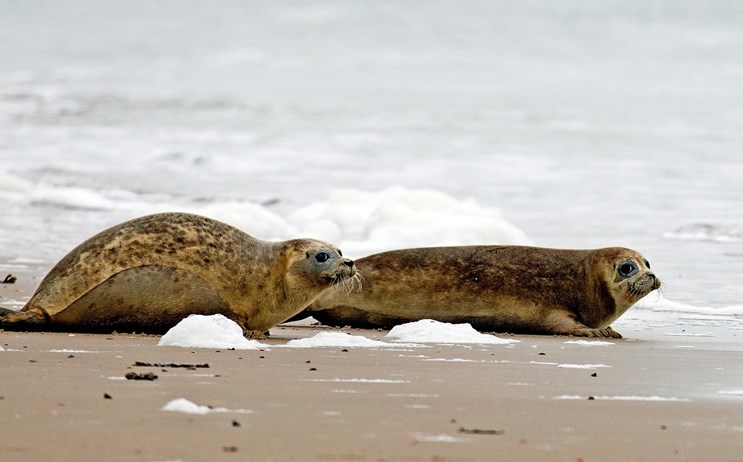 And look out for these animals
There are loads of other interesting animals to see in Zeeland. Like wild cattle grazing on the Schotsman site near Veere, and nearby Goudplaat. Raise your eyes at the Monnikenwerve ostrich farm – or take a sedate stroll with the haughty alpacas and canny donkeys. If you're a true bird spotter, the Vogelboulevard along the southern coast of Schouwen-Duiveland will have your heart all a-flutter. Birds of a feather, they say.
Best done with kids, these animal quests. For other ideas for the kids to keep you busy, consult this blog.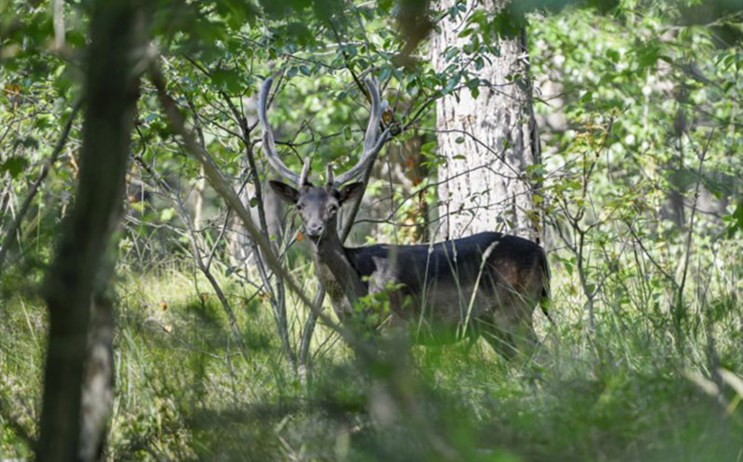 Peace and quiet round the corner
Things can get a bit hectic in Veere, with so much to do. Mind you, just steps away from the local downtown is an impressive walking trail along the old city ramparts – it involves a few water crossings by raft. Just before you come to the sweet wee beach on the Veerse Meer lake – and, later, the Veerse forest which will grab an hour of your time. Over in Westkapelle, up on the high dikes and down in the village, is a similar mix of hectic and calm. Like along the Westkappelse creek, a nice little walk.
Sharpen your skills at avoiding busy spots, in Burgh-Haamstede. Behind the Haamstede castle, the woods are home to a suite of bunkers, like one called the Walvis ('whale'), good for a clamber. Our capital Middelburg has its moments of coy hectic too, with seasonal peaks, but you'll soon gravitate to the canalside walks and the now ubiquitous self-drawn rafts. Phew.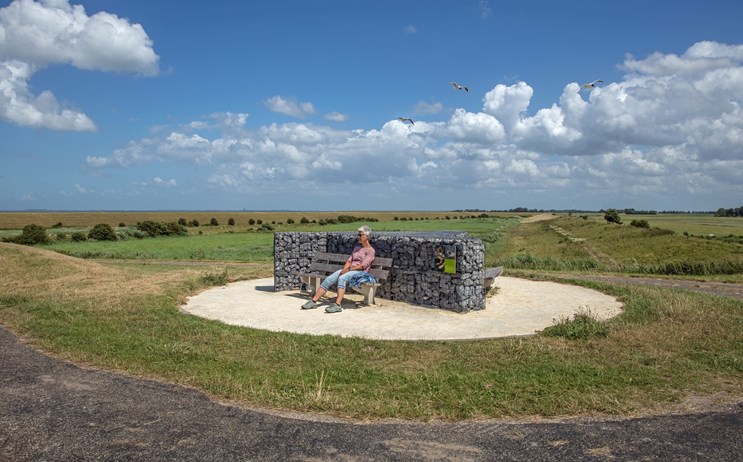 Supping, an acquired art
Was supping invented at a therapy lab, or did it truly happen when a stand-up surfer just couldn't sit down and kept on paddling? In case you haven't yet risen to having your own board, you can easily rent one and get some re-assuring tips on how to proceed. Here are some. Where to sup is simpler than how to. For starters, the Otheense creek near Terneuzen offers you a route of a mere 15 km.
Less boisterous and more serene water sport is at hand too. On the Veerse Meer lake you can hire a (motorised) whisper boat and captain your own cruise – or head out, a-paddlin', in your canoe or kayak.